Lemon garlic air-fried chicken with crispy Brussel sprouts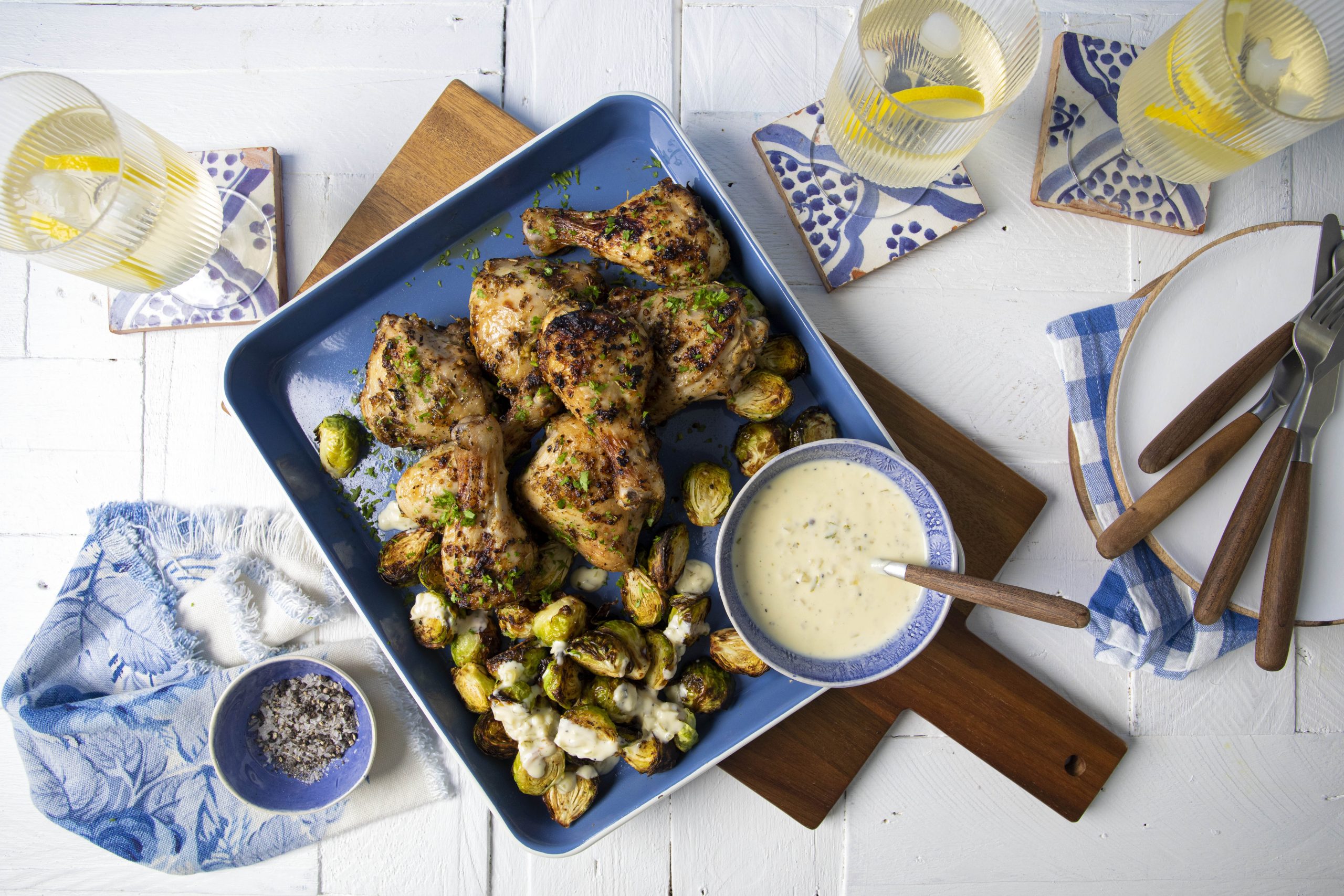 Prep time
15min

Cook time
45min

Serves
4
Ingredients:
For the chicken
5 cloves garlic, finely minced
2 Tbsp (30ml) onion powder
1 Tbsp (15ml) dried herbs (such as rosemary, basil, and oregano)
Zest of 1 lemon
Juice of 2 lemons
3 Tbsp (45ml) olive oil
4 chicken pieces, thighs and drumsticks
For the Brussel sprouts
500g brussels sprouts, halved
2 Tbsp (30ml) olive oil
1 Tbsp (15ml) onion powder
For the lemon sauce
1 Tbsp (15ml) butter
1 Tbsp (15ml) olive oil
1 onion, finely chopped
2 cloves garlic, finely minced
2 Tbsp (30ml) flour
300ml cream
Zest and juice of 1 lemon
10g parsley, finely chopped
Salt and milled pepper
Method:
In a bowl, whisk together the garlic, onion powder, dried herbs, a generous pinch of salt and pepper, lemon zest and juice, and olive oil.
Place the chicken in a bowl and pour the lemon mixture over.
Toss well to ensure all the chicken is coated.
Marinate at room temperature for 10-15 minutes.
Preheat the air fryer to 185°C.
Air-fry the chicken for 30 minutes, or until cooked through and the skin is crispy.
In the meantime, cook the Brussel sprouts – place the sprouts in a bowl.
Drizzle over the olive oil and add the onion powder with some salt and pepper.
Toss well to coat evenly.
Preheat the air fryer to 200°C. Add the sprouts and cook for 15 minutes until crispy and cooked through.
Prepare the lemon herb sauce – Melt the butter and olive oil in a pan over medium heat. Once hot, add the onion with a pinch of salt and pepper. Sauté for 5 minutes until translucent. Add the garlic, and sauté for a further 3 minutes.
Tip in the flour and stir thoroughly. Cook, stirring, for another 3-4 minutes.
Add a dash of cream and whisk to remove the flour clumps. Add the rest of the cream. Bring to boil, then reduce the heat and simmer for 5 minutes until thickened.
Finish with the lemon juice, lemon zest, chopped parsley and extra salt and pepper if necessary.
Serve the chicken with brussels sprouts on the side, and drizzle over the warm sauce. Garnish with chopped parsley.