Umleqwa, tomato and onion stew with dombolo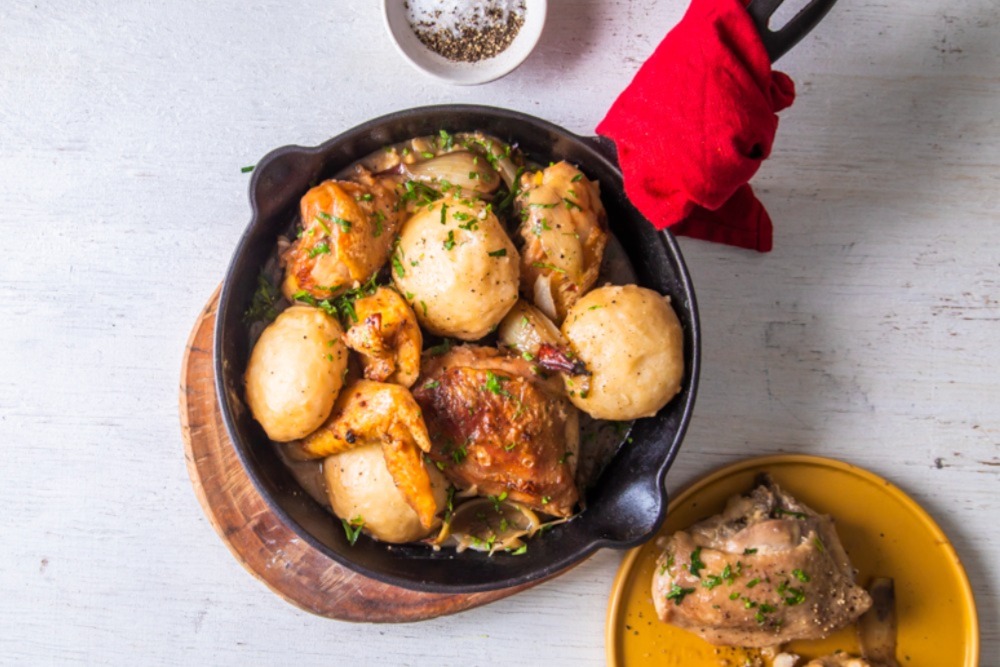 Prep time
40min

Cook time
3h

Serves
6
Let the magic of time cook the chicken for a perfect family meal.
Ingredients:
6 - 8 pieces Goldi Hardbody Tray Pack
10 cups (2,5l) water
1 cube of chicken or vegetable stock
1 (50g) instant tomato soup pack
2 onions, quartered
For the dombolo
5 cups (625g) white bread flour
1 tsp (5ml), salt
1 Tbsp (15ml) sugar
1 x 10g pack instant dry yeast
1 ½  cups (375ml) lukewarm water (body temperature)
¼ cup (60ml) oil
Method:
Bring water to a boil in a large pot, add the stock cube and stir.
Place chicken in water, cover and simmer for 2 hours.
Dissolve the tomato soup with a little water, and add to the Umleqwa along with the onions.
In the meantime, prepare the dombolo: Mix dry ingredients together in a large bowl.
Make a well in the centre of the flour mix, and add lukewarm water and oil.
Slowly incorporate the water by mixing the flour into the liquid.
Once combined, turn out to a floured surface and knead for 10 minutes.
The dough should be smooth and, when pressed, bounce back.
Place dough into a greased bowl, cover and let double in size for 20 minutes.
Punch down the dough and roll it into golf ball size.
Place dombolo on top of the Umleqwa (make sure there is enough liquid to let steam, if not, add a cup).
Cover, ensure the lid is properly sealed, and cook on medium to low for 1 hour, till dombolo is cooked.
Serve immediately.