PULLED BBQ CHICKEN ON ROLLS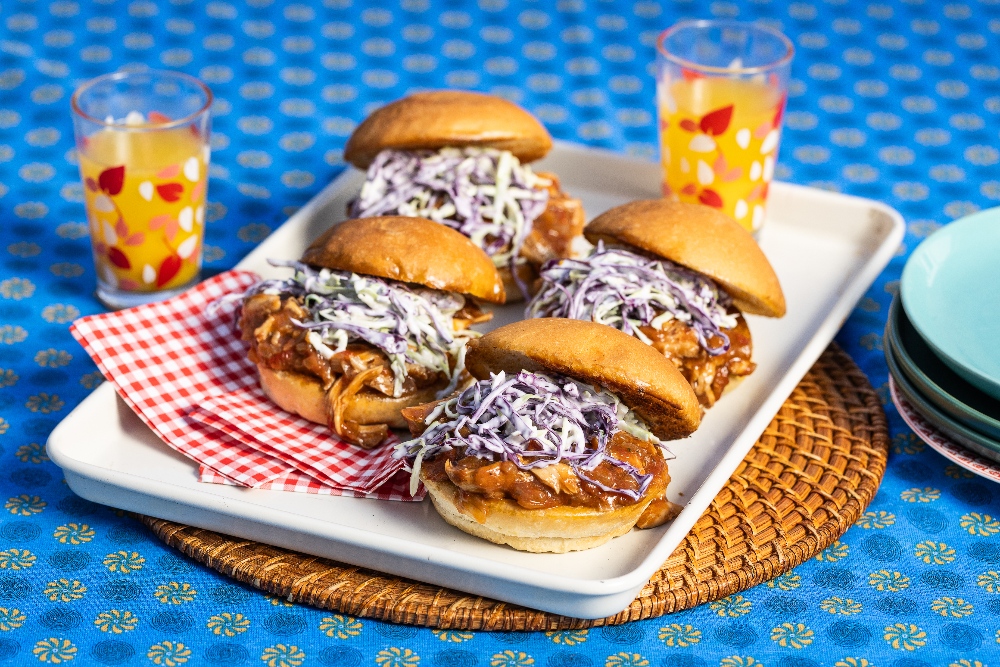 Prep time
15min

Cook time
1h

Serves
8
A great way to make one chicken stretch further! It's a perfect recipe for casual summer entertaining.
Ingredients:
2 Tbsp (30 ml) oil
1 chicken
Salt and pepper
2 onions, finely chopped
1 Tbsp (15 ml) garlic, crushed
1 can (410g) diced tomato
1 cup (250 ml) BBQ sauce of choice
8 bread rolls of choice
For the coleslaw:
½ cup (125 ml) green cabbage, shredded
½ cup (125 ml) purple cabbage, shredded
1 cup (250 ml) tangy mayonnaise
Method:
Add half the oil to a large pot.
Season the chicken with salt and pepper and cook until browned well all around. Remove and set aside.
In the same pot, add the rest of the oil and sauté onions and garlic over medium heat until soft and translucent, about 5 minutes.
Add the canned tomatoes, BBQ sauce and cooked chicken, cover and reduce the heat to a low simmer. Check that it isn't sticking or burning every 10 minutes or so. You can add a ¼  cup of water at a time if it looks too dry.
Cook for 30-45 minutes or until the chicken is tender enough to shred. The sauce should be quite thick, but if it isn't, remove the chicken and let the sauce cook a little on its own until thickened again.
Leave the chicken to cool until cool enough to handle and shred. Remove all the bones and skin.
Season well with salt and pepper and set aside.
Prepare the coleslaw and combine the green and purple cabbage, and stir the mayonnaise through.
Cut open your bread rolls and layer the coleslaw and barbeque mixture. Serve.