Slow-cooker dried apricot and peach chicken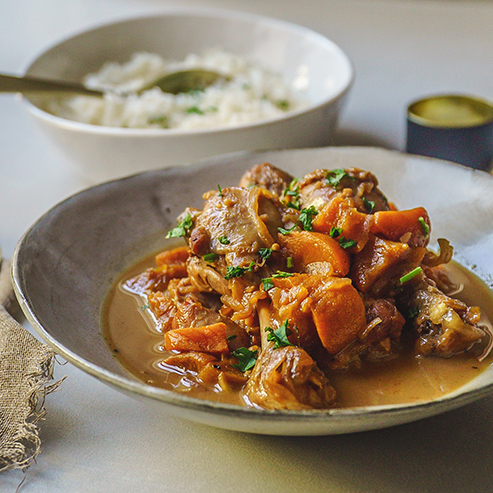 Prep time
20min

Cook time
4h

Serves
4
Nothing says 'comfort food' quite like apricot chicken. Try making it in the slow cooker.
Ingredients:
8 chicken legs
1 onion, thinly sliced
1½ cups dried apricot
¼ cup soy sauce
1 tbsp Dijon mustard
1 tbsp garlic
1 tbsp fresh ginger, minced
¼ cup honey
1 lemon, juiced
2 cups chicken stock
1 glass white wine
2 tbsp parsley, chopped
salt and pepper
Method:
Heat the olive oil in a large pan over high heat.
Season the chicken legs on both sides with salt and pepper. Add to the pan with the onion. Allow to brown, turning every so often.
In a small bowl, mix hot water with the chopped apricot. Allow to sit for 5-10 minutes.
Mix together the chicken stock, white wine, soy sauce, Dijon mustard, garlic, ginger, honey, and lemon juice. Set aside.
Place the chicken legs and onions in a slow cooker. Pour the apricots and the sauce over the chicken and onions.
Cook on low for 6-8 hours or on high for 3-4 hours.
To serve, sprinkle with parsley and plate with rice.