Balsamic glazed roasted chicken pieces with mozzarella, cherry tomatoes and pesto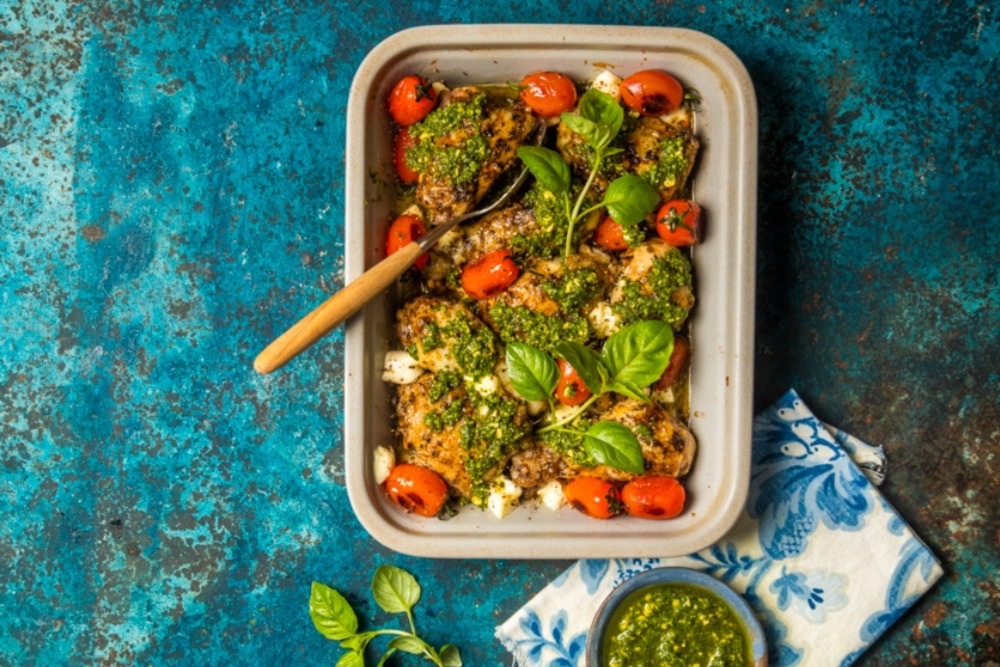 Prep time
15min

Cook time
1h

Serves
4
All the classic Italian flavours that you love baked into one easy dish!
Ingredients:
8 chicken pieces, thighs and drumsticks
1 Tbsp (15ml) dry oregano
1 Tbsp (15ml) dry basil
Salt and milled pepper
2 Tbsp (30ml) olive oil
1 Tbsp (15ml) garlic, finely chopped
¼ cup (60ml) chicken stock
¼ cup (60ml) balsamic vinegar
2 Tbsp (30ml) brown sugar
1 punnet (250g) cherry tomatoes
1 punnet (250g) buffalo mozzarella, cubed
Basil pesto, to taste
Handful fresh basil
Method:
Preheat the oven to 180°C.
Place the chicken in a bowl and season with oregano, basil, salt and pepper.
Heat a pan on high heat with the olive oil. Once hot, add the chicken skin side down and let it get golden and crisp.
Turn the chicken over and cook the other side for 3 minutes. Remove from the pan and place the chicken pieces skin side up in a roasting dish with the tomatoes.
Turn the heat of the pan down to low. Add the garlic and sauté for 2 minutes.
Deglaze with the chicken stock and balsamic vinegar, and add the sugar. Simmer for 3 minutes.
Pour the balsamic mix over the chicken pieces and add the cherry tomatoes.
Place the dish in the oven with a lid or foil cover.
Roast for 30 minutes, then remove the lid and roast uncovered for a further 20 minutes.
Remove the chicken from the oven and turn the oven onto grill.
Sprinkle the mozzarella cubes over the chicken pieces and return to the oven. Allow to grill until the cheese is golden.
Drizzle over the pesto and garnish with fresh basil leaves. Serve.